My picks last week were absolutely horrendous. But...I think my top 5 choices were justified. I just wish one of the opponents showed up to play *cough* Michigan *cough*
With that being said, it is a new week, with a new set of games on the schedule!
Here are my Top 5 Games of the Week:
5. Northwestern @ #8 Wisconsin | 12, ABC | Badgers -24.5
Can we please talk about the fact that Jonathan Taylor has a Louis Vuitton mouth guard? How is OBJ's watch a story but the mouth guard isn't?! Sorry. On to Football.
The Badgers destroyed the Wolverines.
Killed.
Massacred.
Embarrassed.
Whatever you choose as your verb, that's what it was. I'm sick of having to write about that game already, but it's great to have something to talk about. The story getting lost in all of this is how good the Badgers actually are. Jonathan Taylor has my vote for the Heisman already. I haven't seen a running game that dominant since Melvin Gordon had his way with Dino Baber's Falcon defense in 2014. This isn't a top 5 game because I think Northwestern can compete, it's a top 5 game because Wisconsin is a must watch product right now. They served Don Bown's Wolverine defense a balanced run and pass attack, both working exceptionally well. Pat Fitzgerald always outperforms expectations with his Wildcat teams, but I think this task is far too great even for him. Buckeye fans, you're going to want this game on your t.v. at noon.
Speaking of Ohio State...
4. #5 Ohio St. @ Nebraska | 7:30, ABC | Buckeyes -17.5
Everybody seemed to be hyped up about Nebraska this year. "Scott Frost is gonna have this team turned around!"
Well...not quite yet.
I'm not saying Nebraska is bad, I'm just saying they haven't earned the right to be in the Conference Championship conversation. They are 3-1, with their one loss in a close game on the road in Colorado. They haven't beaten anybody special, but a very special opponent is coming to Lincoln on Saturday. Corn Husker Quarterback, Adrien Martinez, is probably the best player this Buckeyes defense has faced thus far. He's thrown for 1,052 yds. and 7 scores so far. On the other side, Justin Fields already has 13 touchdowns on the season, and the Buckeyes average 53.5 pts/game. We'll see if this Buckeyes defense is the real deal this week, but even if they're not, Justin Fields will be too much for the Huskers to stop.
3. #24 Kansas St. @ Oklahoma St. | 7, ESPN+ | Cowboys -4.5
This game being on a ESPN+ is a disservice to the Big 12 Conference. These are both teams with the capability of making noise in the national polls, and neither is getting the respect they deserve. Oklahoma St. just lost by a score on the road to a very good Texas team. Kansas St. on the other hand, is undefeated, with their signature win on the road against Mississippi St. The Big 12 is like Big Ten in the sense that we only hear about two teams: Texas and Oklahoma. The Wildcats might actually be a dark horse in the Conference race. They average 44 pts/game while only allowing 12.7 pts/game on defense. I could totally be wrong and this could be a boring game, but if Kansas St. continues the season with a road win against a quality Oklahoma St. team, watch for them to rise up in the rankings.
2. #21 USC @ #17 Washington | 3:30, FOX | Huskies -10.5
This game does not interest me much. Maybe it's because we're over here on the opposite end of the country, but mostly it's because I don't believe in either of these teams to be legitimate Playoff contenders. The Trojans are 3-1, with a loss against BYU, and currently have Matt Fink under center due to Kedon Slovis being in concussion protocol. Oh and remember, JT Daniels is out for the season. Fink, a 3 star guy, has to travel to Washington and upset the Huskies. Washington has only lost one game, a 1 pt. loss to an undefeated Cal team. This could end up being a good top 25 showdown, but don't be surprised if it's a blowout.
1. #18 UVA @ #10 Notre Dame | 3:30, NBC | Irish -12.5
I owe you Fighting Irish fans a massive apology. Notre Dame gave the country a classic of a game last Saturday in Athens. In fact, I thought they were going to pull it off at one point. Now they get a top 25 match-up against....VIRGINIA?!
That's right, the Cavaliers are a ranked team.
Much like many teams on this list, I don't know if Virginia is actually any good. Sure they're 4-0 to start the season, but their signature win is against an awful Florida St. team. Still, being undefeated in College Football means everything. The Irish have better talent, home field advantage, and more pressure. If the 'Hoos can pull off an upset in South Bend, Brian Kelly's seat will start getting toasty, and their season very well could be over.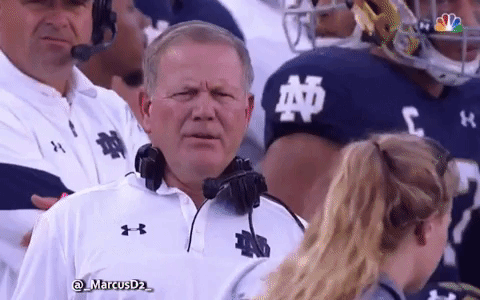 Be sure to follow me on Twitter and Instagram for College Football content all season long!
(@FrankGargano77)